Rennie Williamson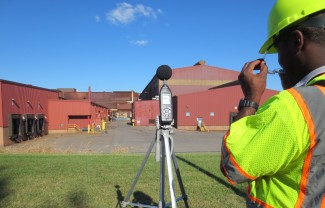 Rennie Williamson is a Project Engineer with 5 years of professional experience in traffic noise measurements and modeling with the FHWA TNM program. Rennie received his M.S. degree in 1997, studying under Dr. Bill Bowlby at Vanderbilt University. As a Research Assistant and USDOT University Transportation Centers Fellow, he conducted extensive sensitivity, validation, and functionality testing of FHWA TNM (Beta test versions) and compared results with STAMINA/OPTIMA predictions. He reported his results with recommendations to USDOT and the software developers. His work resulted in the nation's first master's thesis on the FHWA TNM model.
Rennie then became a Project Engineer at Bowlby & Associates, Inc. where he worked for two years before leaving to pursue other career options. He rejoined the company in September 2013. He has attended the National Highway Institute Highway Traffic Noise course,the Bowlby & Associates' FHWA TNM 2.5 course, and the MOVES2014 Training Course.
During his years with the company, he has worked on a number of traffic noise projects. For FHWA, he performed many hundreds of TNM 2.5 and TNM 3.0 runs for the TNM 3.0 Sensitivity Testing and Consistency Test Suite task order under an FHWA on-call contract primed by RSG, using a test version of the TNM 3.0 acoustic code that will be in the final TNM 3.0 implementation. This test suite will be used by FHWA to test the final version of TNM 3.0 and any other third party developer versions for which FHWA approval is sought. For NCHRP, he conducted noise measurements and was heavily involved in the data analysis for Project 25-44, Field Evaluation of Reflected Noise from a Single Noise Barrier, Phase 1.  He also was involved with the data analysis and writing of two FHWA research reports: Analysis of Noise Barrier Acceptance Criteria and Tools to Evaluate Noise Barrier Acceptance Criteria.
Rennie has conducted noise measurements and/or TNM modeling numerous Tennessee DOT including: I-69 SIU #8, I-75/I-24 Interchange, I-640 & Broadway Interchange, Pellissippi Parkway Extension, I-40/I-240 interchange, SR 385, and the Kirby Whitten Parkway Extension.
For Maryland SHA, he conducted site modeling on the US 113 project in Worcester County. For West Virginia DOT, he assisted in data reduction and analysis and creating monthly reports for the Henderson Bridge Replacement 18-month construction noise remote monitoring program. For Ohio DOT, he performed field noise measurements at single and parallel noise barrier sites as part of the SR-8 noise barrier reflections study.
Rennie also assisted on a USDOT Volpe Center project on the design of a computer-based training tool for FHWA TNM 1.0, called TNM Trainer. He currently assists in the teaching of the firm's FHWA TNM training courses. 
Rennie is experienced in using TNM 2.5, sound level analyzers for noise measurements, and Bentley's Powerdraft for traffic noise modeling work.
Click here to email Rennie (rwilliamson@bowlbyassociates.com)