Geoff Pratt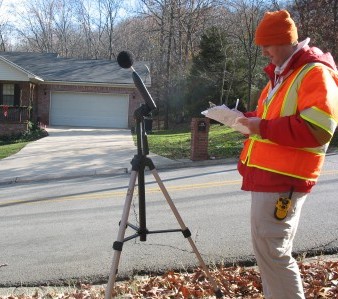 Mr. Geoffrey Pratt, P.E., Senior Project Manager and Engineer, has worked on transportation noise and air quality studies since 1999. Geoff has had the lead on the firm's traffic noise analyses work for Mississippi and South Carolina. For Mississippi DOT, he was the engineer in charge for the noise studies for the Greenville Bypass EIS, the Vicksburg Port Connector Road EA, the SR 43 EA, Sowell Road improvements (for Madison County), and Star Landing Road (for DeSoto County). His noise study projects for South Carolina DOT included SC‑290/SC-253 Intersection Improvements, S‑485/SC-8 Intersection Improvements, and US-501 Improvements. He was also the engineer responsible for the Illinois DOT State Route 13/15 widening and the Maryland SHA US 113 widening.
Geoff has also assisted on numerous Tennessee DOT noise barrier studies and NEPA noise analyses, several noise and air quality studies for the Louisiana DOTD, and the Indiana portion of the I-65 widening for Louisville-Southern Indiana Ohio River Bridges Project. He has also worked on noise studies for Arkansas Highway and Transportation Department, Illinois State Toll Highway Authority, New York State DOT, the Gulf Coast Maglev Coalition, the National Park Service, CSX Transportation, Ohio DOT, Missouri DOT, and Caltrans. He has also modeled noise for many industrial, recreational and community noise clients, studying such sources as a natural gas regulator stations, a powder metallurgy plant, emergency power generators, big box stores, a firing range, a scrap iron yard, and an aluminum processing plant. His work on these studies has included some or all of the following: noise measurements, TNM modeling, CadnaA modeling, noise impact assessment, noise abatement evaluation, MOVES and MOBILE emissions modeling, and CAL3QHC dispersion modeling.
Geoff has co-authored several research reports, including FHWA's Noise Barrier Acceptance Criteria: Analysis, Noise Barrier Acceptance Criteria: Evaluation Tools, Noise Abatement Feasibility and Reasonableness Analysis Tool (NARFAT) Version 1, and Noise Abatement Reasonableness Sensitivity Analysis Tool (NARSAT) Version 1, He was also a key researcher for NCHRP Report 791: Supplemental Guidance on the Application of FHWA's Traffic Noise Model (TNM). Geoff also presented on Toll Plaza Rumble Strip Noise at the Transportation Research Board (TRB) ADC40 Summer Meeting in 2013.
Geoff played a major role in the Tennessee DOT statewide needs assessment for Type II (retrofit) noise barriers and the follow-up prioritization study, having the lead in developing the prototype Tennessee DOT traffic noise management geographic information system (GIS) using ArcView. He also has a major role in the Georgia DOT Atlanta-area Type II needs assessment, having the lead in creating and updating the GIS data and exhibits. For the Ohio DOT I-675 Undeveloped Land Use Noise Study near Dayton, Geoff conducted noise measurements, modeled sites with TNM and generated sound level contours. Geoff also helped conduct the beta testing of TNM Versions 2.0 and 2.5 for USDOT.
Geoff has attended the FHWA Mobile Source Air Toxics training course, the NHI NEPA and Transportation Decision-making course, the USEPA Quantitative PM Hot-spot Analyses course, the USEPA-FHWA 3-day MOBILE6 Emissions Model Training Course and the Georgia DOT Plan Development Process training. He has also attended Bowlby & Associates' FHWA TNM 2.5 training course and now assists with the course workshops, including courses for Caltrans and Georgia DOT. He is experienced with noise and air quality software including TNM 2.5, CadnaA, MOVES, and CAL3QHC. He is also skilled with Bentley's MicroStation Powerdraft, AutoCAD and ArcGIS.
Geoff is a recent past member of the Transportation Research Board Committee on Transportation-Related Noise and Vibration, serving from 2009 to 2015.