Bill Bowlby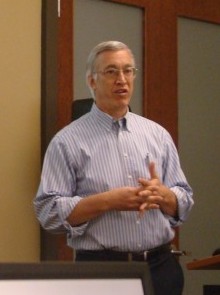 Dr. William Bowlby, P.E. had been President of Bowlby & Associates since its formation in 1991, and he is now Principal Engineer for the firm.  Bill has over 40 years experience in transportation noise analysis, with emphasis on measurement, modeling, abatement design, analysis methods development, training, and training tool development. He has led work for over twenty state highway agencies, USDOT, FHWA, the National Park Service and the National Cooperative Highway Research Program (NCHRP).
Bill was on the original FHWA Traffic Noise Model (TNM) development team in the mid-1990s and has led TNM evaluation, validation and beta testing studies for USDOT and FHWA, including development of the interactive TNM-Trainer CD and most recently, a consistency test suite for TNM 3.0.
Bill co-developed the National Highway Institute (NHI) Highway Traffic Noise course, is a certified NHI instructor, and coordinates the instructor team. He also co-developed and co-teaches the firm's own four-day training course on the FHWA Traffic Noise Model and its one-day Traffic Noise Fundamentals component. The course has been taught over 45 times since 1998 including sessions hosted by four State DOTs.
Bill's experience includes 3-½ years with the New York State DOT, 4-½ years with FHWA and 16 years on the civil engineering faculty at Vanderbilt University. While at Vanderbilt, he conducted noise research studies for USDOT, NCHRP and several state highway agencies. He left Vanderbilt in 1997 to devote his full time and attention to Bowlby & Associates, which he and Pat Bowlby formed after ten years of his serving an independent consultant while at Vanderbilt.
Bill has been principal investigator (PI) or key team member on many transportation noise studies and research projects involving noise from highways, rail yards, and freight, commuter, light, and high speed rail systems.
Bill currently oversees multi-year, task order term agreements for noise services with Tennessee DOT, Arkansas Highway and Transportation Department, Missouri DOT, and NHI, and, as a subconsultant, with Maryland SHA, FHWA and the USDOT Volpe Center Acoustics Facility.
Under the FHWA Indefinite Delivery/Indefinite Quantity (IDIQ) subcontract, he was PI on two task orders titled 23 CFR 772 Streamlining, Analysis, and Outreach Phase I and II, being lead author on two research reports: Analysis of Noise Barrier Acceptance Criteria and Tools to Evaluate Noise Barrier Acceptance Criteria.
He was a lead author and investigator on several of the technical topic areas in NCHRP Report 791, Supplemental Guidance on the Application of FHWA's Traffic Noise Model (TNM). He was also the PI on NCHRP Project 25-44, Field Evaluation of Reflected Noise from a Single Noise Barrier, Phase 1 and is currently the PI on Phase 2.
Bill led the firm's Ohio DOT research study, Consideration of Land Use Planning in the ODOT Noise Abatement Process, I-675, Greene County. He also led a major research study for Montana DOT, Traffic Noise in Montana: Community Awareness and Recommendations for a Rural State.
Bill's experience has also included noise policy, program and project review as consultant to Maryland SHA Tennessee DOT and Montana DOT. He has also analyzed and evaluated abatement for noise from commercial, industrial, recreational and public utility facilities, and has served as an expert witness on many noise cases.
Click here to e-mail Bill (wbowlby@bowlbyassociates.com)