Darlene Reiter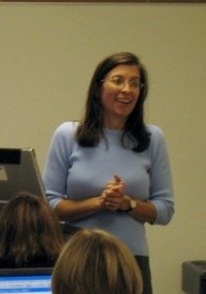 Dr. Darlene Reiter, P.E., is the President of Bowlby & Associates.  She joined the company in 1997 after receiving her doctorate at Vanderbilt University.  She also earned Bachelor's and Master's degrees in Civil Engineering from Villanova University.
Dr. Reiter is an expert in transportation noise analyses including modeling, abatement design, training, and policy and procedures development. She has served as project manager for major noise studies for State Highway Agencies (SHAs) in Tennessee, Georgia, California, Missouri, New York and Pennsylvania.
She was also the project manager for Tennessee Department of Transportation's (TDOT) programmatic Statewide Type II Noise Barrier Needs Assessment and Prioritization studies that led TDOT's to establish a program for the construction of retrofit noise barriers.  That study that won the American Council of Engineering Companies (ACEC) of Tennessee Engineering Excellence Honor Award in 2006 for Studies, Research, and Consulting Engineering Services.
Dr. Reiter is an expert in the use of the FHWA Traffic Noise Model (TNM 2.5) and is co-instructor of Bowlby's 5-day training course on Traffic Noise Fundamentals and TNM 2.5.  She is also a Certified Instructor of the 3-day National Highway Institute Course 142051, Highway Traffic Noise for which she received the 2013 NHI Instructor of Excellence Award.
She is very familiar with the FHWA noise standards in 23 CFR 772 and FHWA's Highway Traffic Noise Analysis and Abatement Policy and Guidance,  playing a key role in helping TDOT develop its current noise policy. She also rewrote TDOT's noise study procedures and developed TDOT's TNM modeling guidelines.
Dr. Reiter served as a member of FHWA's Tire-Pavement Noise Technical Working Group (TWG) that developed AASHTO Standard Methods for determining pavement noise effects.  She was one of the lead researchers on the recently-completed FHWA Task Order No. DTFH61-D-00028-T12-002, "23 CFR 772 Streamlining, Analysis, and Outreach" and the lead co-author of the resulting report titled "Evaluation of 23 CFR 772 for Opportunities to Streamline and Establish Programmatic Agreements." She is served as a researcher for NCHRP 25-44, Field Investigation of Reflected Noise from a Single Noise Barrier, for which she was responsible for development of the equivalent site selection criteria, and is currently a researcher for NCHRP 25-52, Effects of Meteorology on Roadway Noise.
She served as the transportation noise expert at the FHWA Accelerated Construction Technology Transfer (ACTT) Workshop for Hawaii DOT in 2006 on "Fostering Innovation Interstate Route H-1 Viaduct Improvements" and received the FHWA Partnership in Excellence Award for that work.
Dr. Reiter is also a specialist in transportation air quality analysis.  Her experience for SHAs and local agencies includes: emissions modeling for highways, HOV lanes, airports and commuter rail; dispersion modeling for highways using CAL3QHC; CMAQ studies for traffic signal synchronization corridor studies; qualitative and quantitative mobile air source toxics (MSATs) analyses for highways; PM2.5 analyses for highways.  She is experienced with EPA's MOVES program and has completed two MOVES training courses.  She is very familiar with national and state air quality regulations and guidance, including transportation conformity and has coordinated and facilitated the project-level conformity process for TDOT projects in Tennessee's PM2.5 nonattainment areas since 2009. She served as a Case Study Team member for FHWA's Air Quality and Congestion Mitigation Measures Outcomes Assessment Study mandated by Congress and completed in 2014.
Dr. Reiter was an adjunct professor of Civil and Environmental Engineering at Vanderbilt from 1997 to 2000 and taught Environmental Analysis of Transportation Systems and Transportation Planning courses to undergraduate and graduate students.
Prior to Bowlby & Associates and Vanderbilt, Dr, Reiter had six years' experience with McMahon Associates as a transportation engineer conducting studies throughout Pennsylvania, New Jersey, Illinois, Florida and North Carolina.