Clay Patton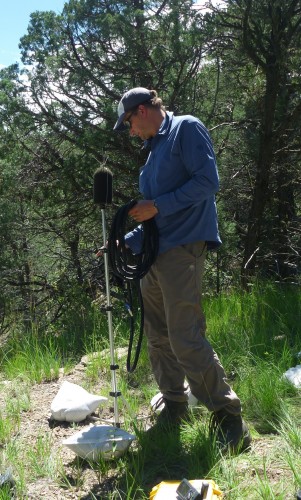 Mr. Clay Patton, Senior Project Manager and Engineer, has been an essential member of the Bowlby & Associates team since the company's inception in 1991. His areas of expertise include noise measurement, transportation noise prediction and transportation noise abatement. Clay's experience includes work for clients ranging from federal and state governmental agencies to regional planning agencies to individual businesses and residents.
Clay has the lead on the company's work in Louisiana with the Louisiana Department of Transportation and Development, New Orleans Regional Planning Commission, and Northwest Louisiana Council of Governments. He has conducted over twenty noise and noise/air quality studies for EA and EIS level projects within the state of Louisiana including the Hooper Road Widening and Extension EA noise analysis in East Baton Rouge Parish, the Florida Avenue Bridge Replacement EA noise analysis in New Orleans, the I-49 EIS noise analysis from Lafayette to Morgan City and the noise analysis and barrier evaluations for the I-10 (LA 415 to Essen Lane) Stage 0 Study in Baton Rouge. Clay is also the lead project manager and engineer on the company's noise analysis and abatement design work with the Arkansas Highway and Transportation Department, including noise analyses and barrier designs for I-40 in North Little Rock, I-40 in Conway and Highway 67 in Jacksonville.
Clay also has noise measurement, prediction, abatement and reporting experience for the state transportation agencies in New York, New Jersey, Illinois, Indiana, Michigan, Ohio, Georgia, Alabama, Mississippi and Montana. He has measured and modeled for a multi-state bridge improvement, freight and transit rail lines, quarry operations, metal recycling yards, pipe coating facilities as well as investigations of entertainment, commercial and industrial noise ordinance violations.
Clay has also served in a lead role for the firm's noise measurement and analysis studies for the National Park Service (NPS) involving natural soundscapes, air tour management plans, and noise from traffic, concerts, sports events, and snowmobiles and other over-snow transportation vehicles. He has conducted measurement studies within many National Park entities including Yellowstone, Grand Canyon, Glacier, Grand Teton, Zion, Great Smoky Mountains, Big Cypress, Biscayne Bay, Rock Creek Park, Wolf Trap Farm Park, Manassas Battlefield, and The Presidio. He completed this work with the firm serving as a subconsultant under Indefinite Delivery/Indefinite Quantity (IDIQ) contracts with NPS and also under the firm's own IDIQ contract with the USDOT Volpe Center Acoustics Facility.
Clay has extensive experience in the use of TNM 2.5 and a broad range of noise measurement equipment. He attended Bowlby & Associates' FHWA TNM 2.5 training course and has assisted with the course workshops for many years, including sessions hosted by Caltrans, Washington State DOT and Indiana DOT. Clay has attended the National Transit Institute course on the Federal Transit Administration's Transit Rail Noise and Vibration and the University of Central Florida course on Advanced Modeling of Mobile Source Air Quality Impacts. He also has experience in the use of air quality emission models and CAL3QHC.
Click here to e-mail Clay (cpatton@bowlbyassociates.com)